Elevate your home with the cutting-edge vinyl windows offered by Athens Window Replacement. Our vinyl windows are crafted with precision, featuring a robust and versatile design. Known for their durability, these windows resist warping, fading, and cracking, ensuring a pristine look for years. The fusion of innovative design and high-quality materials makes them a preferred choice for homeowners.
The benefits of our vinyl windows are manifold. Firstly, they offer exceptional energy efficiency, thanks to their excellent insulation properties that help reduce heating and cooling costs. Secondly, they require minimal maintenance, retaining their appearance and functionality over time with little effort. Thirdly, the customization options available in terms of color, style, and size ensure that these windows can seamlessly blend with any home aesthetic, enhancing the overall look of your property.
Our vinyl windows come in various sizes and dimensions to meet the unique needs of your Athens, Alabama, home. Whether you require large picture windows to enjoy expansive views or smaller, functional ones for ventilation, we ensure a perfect fit tailored to your specific architectural requirements.
Maintaining your vinyl Windows is easy. Regular cleaning with a mild detergent and water is sufficient to keep them looking new. It's important to avoid abrasive cleaners and harsh chemicals that can damage the vinyl. With simple care, these windows will continue to add value and beauty to your home.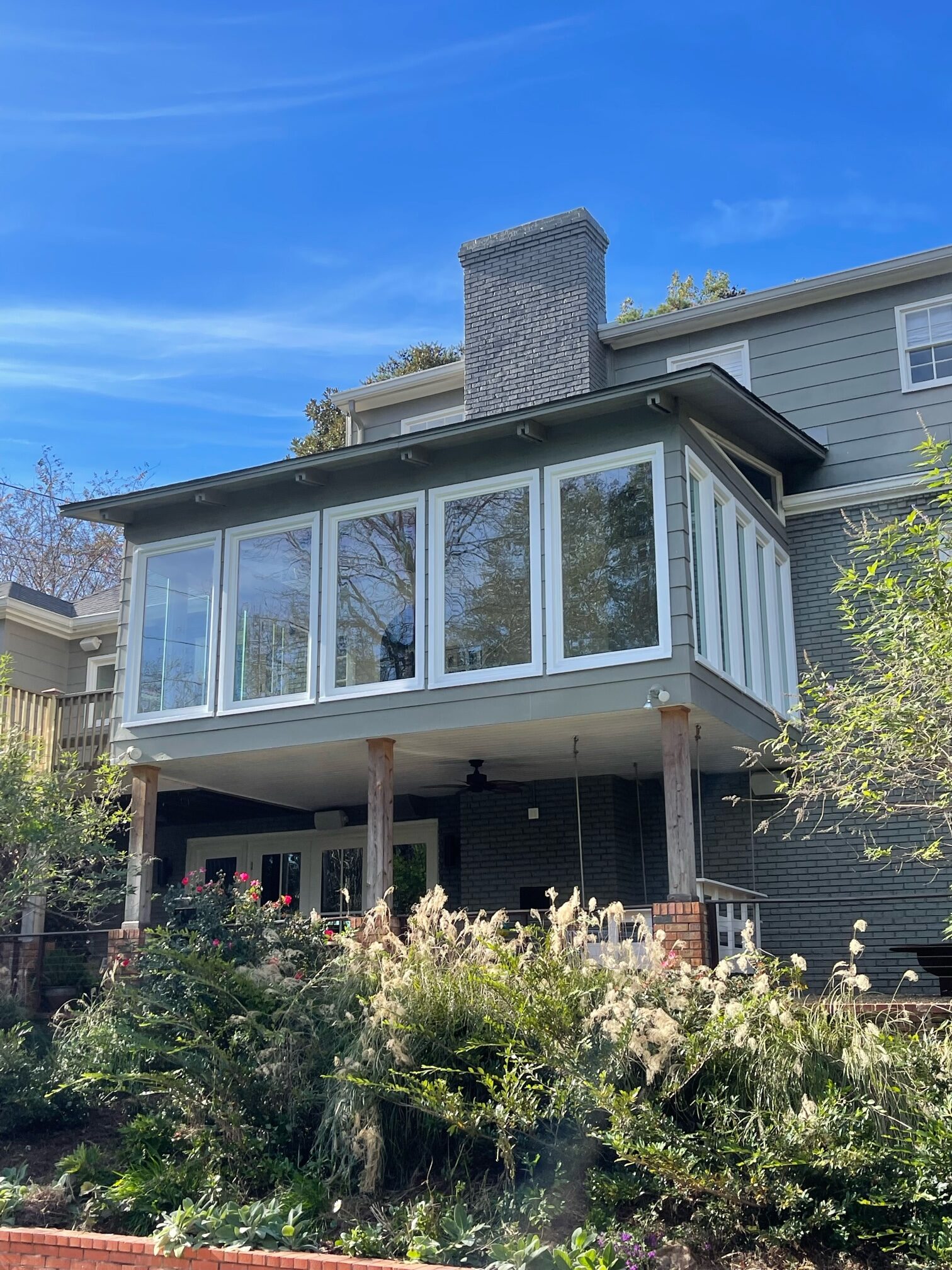 Enhancing Your Home with Energy-Efficient Vinyl Windows from Athens Window Replacement
At Athens Window Replacement, we specialize in Vinyl Window replacements that excel in energy efficiency. Our range of Vinyl Windows is designed with cutting-edge features to ensure your home stays comfortable while reducing energy costs.
Low-E glass in Vinyl Windows plays a crucial role in energy conservation. These windows at Athens Window Replacement feature a microscopic, invisible coating that reflects heat, keeping your home warmer in winter and cooler in summer and reducing energy bills significantly.
Argon gas filled Vinyl Windows provide superior insulation. The argon gas between the panes acts as an excellent thermal barrier, enhancing the window's ability to retain heat and thereby increasing the energy efficiency of your home.
Krypton gas filled Vinyl Windows offer an advanced level of thermal insulation. At Athens Window Replacement, these windows are designed for maximum energy efficiency, making them an ideal choice for homeowners looking to minimize heat loss.
Triple-pane Vinyl Windows are the epitome of energy efficiency. With three layers of glass, they offer exceptional insulation, reducing external noise and significantly cutting down on energy usage, making them a popular choice at Athens Window Replacement.
Vinyl Windows with UV protection not only safeguard your home from harmful ultraviolet rays but also contribute to energy savings. They protect your interior furnishings from sun damage while maintaining comfortable indoor temperatures.
Solar control features in Vinyl Windows are crucial for maintaining a comfortable home environment. These windows at Athens Window Replacement minimize solar heat gain, keeping your home cooler in summer and reducing the reliance on air conditioning, thereby saving on energy costs.
Athens Window Replacement offers a diverse selection of Vinyl Windows designed for superior energy efficiency. From the innovative Low-E glass to the advanced triple-pane design, our windows are tailored to meet the unique needs of your home, ensuring functionality, comfort, and energy savings. Choose Athens Window Replacement for Vinyl Windows that combine style, durability, and cutting-edge energy efficiency.
Frequently Asked Questions About Our Vinyl Window Replacement in Athens, Alabama
When it comes to vinyl window replacement, homeowners often have questions. Here are detailed answers to some common queries.