Discover the timeless appeal of Double Hung Windows at Athens Window Replacement, where we blend classic design with modern functionality. Our Double Hung Windows feature two sashes in a single frame, sliding up or down to open, providing a traditional look with the convenience of contemporary window technology. Crafted with precision, these windows are an exemplary choice for homeowners seeking both aesthetics and practicality.
The advantages of installing Double Hung Windows are multifaceted. They offer excellent ventilation options, as both the upper and lower sashes can be opened. This feature not only allows for increased airflow but also contributes to better indoor air quality. Additionally, their design makes them incredibly easy to clean from the inside, a particularly beneficial feature for multi-story homes. Furthermore, Double Hung Windows are versatile in style, fitting seamlessly with both traditional and modern home designs.
Our Double Hung Windows come in various sizes and dimensions, ensuring a perfect fit for every home in Athens, Alabama. Whether you're renovating a historic property or building a new home, our windows can be tailored to meet your specific needs and preferences, enhancing your home's architectural integrity.
Maintaining your Double Hung Windows is straightforward. Regular cleaning with a mild detergent and soft cloth will keep them looking new. It's essential to perform periodic checks on the tracks and sashes to ensure smooth operation. With proper care, these windows will remain functional and beautiful, serving as a lasting investment in your home.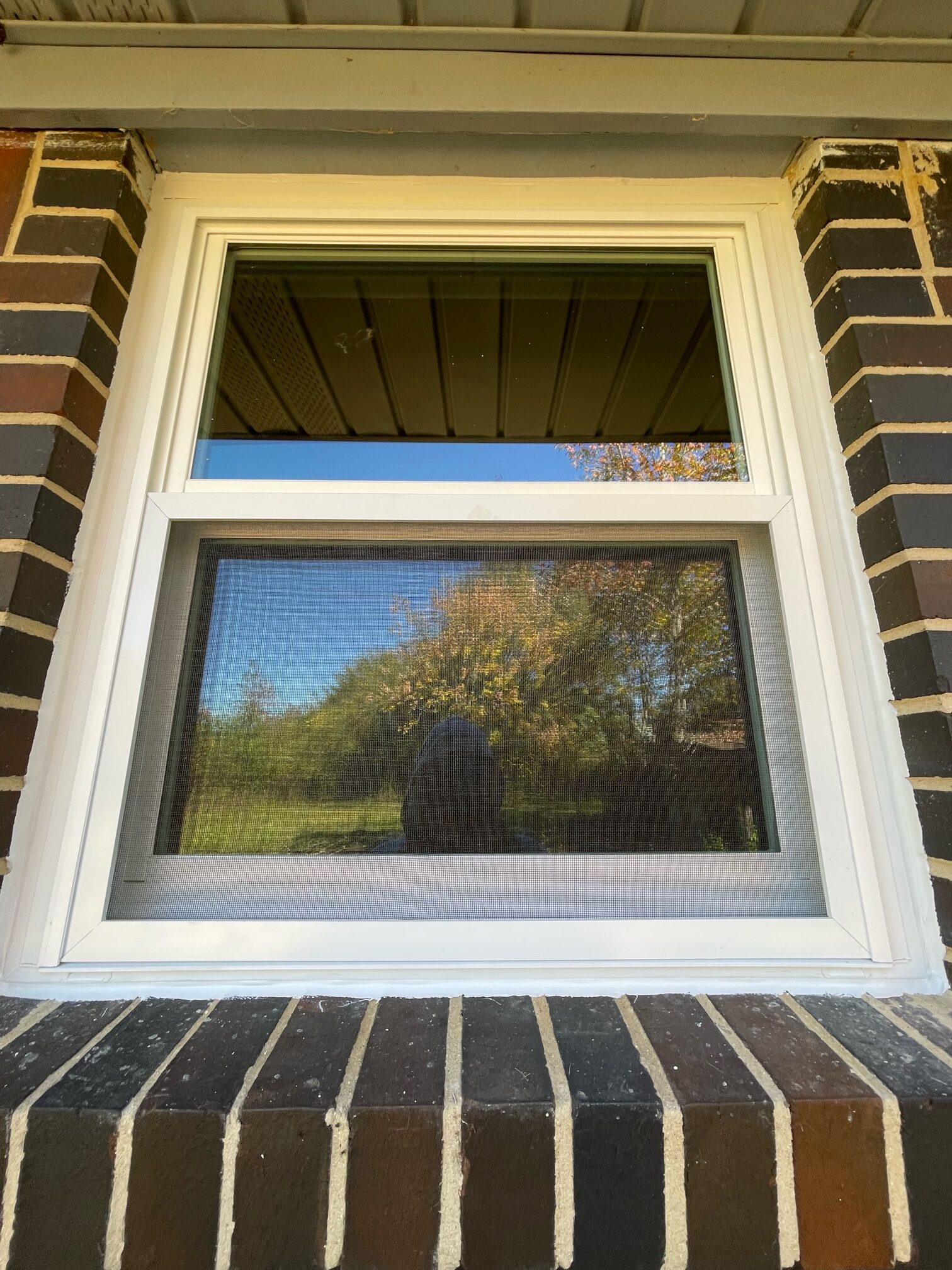 Discover the Charm of Double Hung Window Grille Options at Athens Window Replacement
Athens Window Replacement proudly presents an array of Double Hung Window Grille options, each designed to enhance the beauty and character of your home. From classic to contemporary, our selection caters to diverse architectural styles, ensuring that every window reflects your personal taste and home's aesthetic.
Colonial Double Hung Window Grilles, characterized by their symmetrical grid pattern, offer a traditional and timeless look. Perfect for historical and colonial-style homes, they add a touch of elegance and heritage.
Our Prairie Double Hung Window Grilles feature a distinct design with fewer, wider bars, creating a clean, uncluttered look. Ideal for modern homes, they provide a subtle nod to classic architecture while maintaining a contemporary feel.
Athens Window Replacement excels in Custom Double Hung Window Grilles. Whether you desire a unique pattern or a specific style, we tailor-make grilles to meet your exact preferences, ensuring your windows are as unique as your home.
Diamond Double Hung Window Grilles add an artistic and luxurious touch. With their intricate patterns, these grilles are perfect for homes that aim for a striking visual impact and a sophisticated aesthetic.
Our Queen Anne Double Hung Window Grilles are all about ornate and detailed designs. Ideal for Victorian and historical homes, they add a regal and elegant character, elevating the overall appearance of your windows.
Craftsman Double Hung Window Grilles, known for their simple and handcrafted look, complement Arts and Crafts style homes. They bring a bespoke, artisanal charm to your windows, enriching your home's architectural integrity.
Georgian Double Hung Window Grilles are distinguished by their classic and balanced grid design. They suit Georgian-style homes, adding a refined and stately elegance to your windows.
Farmhouse Double Hung Window Grilles at Athens Window Replacement bring a rustic and cozy charm. Their simplistic design aligns well with the farmhouse aesthetic, creating a warm and inviting ambiance.
Renaissance Double Hung Window Grilles are for those who appreciate ornate and historical designs. These grilles add a touch of artistic flair and grandeur, making them ideal for homes with a luxurious and opulent style.
Athens Window Replacement offers a diverse range of Awning Window styles to fit every architectural need. From Traditional to Georgian , our awning windows not only enhance the beauty of your home but also provide functionality and efficiency. Choose Athens Window Replacement to transform your space with windows that are as stylish as they are practical.
Frequently Asked Questions About Our Double Hung Window Replacement in Athens, Alabama
When considering Double Hung Window Replacement, homeowners often have queries. Here are detailed answers to some of the most frequently asked questions.