Explore the world of elegant Bow Windows with Athens Window Replacement, where we bring a blend of style and functionality to your home. Our Bow Windows, characterized by their unique curved design, extend outward from the wall, offering a panoramic view of the outdoors. These windows are not just an architectural feature; they are a statement piece, adding character and depth to any room.
The benefits of installing Bow Windows are numerous. Firstly, they create additional space, providing a charming alcove or a sunny reading spot. Secondly, their expansive glass area allows for ample natural light, brightening up your living space. Lastly, Bow Windows enhances the aesthetic appeal of your home, both inside and out, potentially increasing its market value.
Our Bow Windows come in various sizes and dimensions, catering to the unique architectural requirements of homes in Athens, Alabama. Whether you're looking for a large, dramatic window to capture scenic views or a smaller one to add a touch of elegance, we ensure a perfect fit and expert installation.
Caring for your Bow Windows is straightforward and low maintenance. Regular cleaning with a soft cloth and gentle cleaning solution will keep the glass sparkling. It's important to check the seals and frames periodically to ensure they are in optimal condition. With proper care, your Bow Windows will continue to be a stunning feature of your home.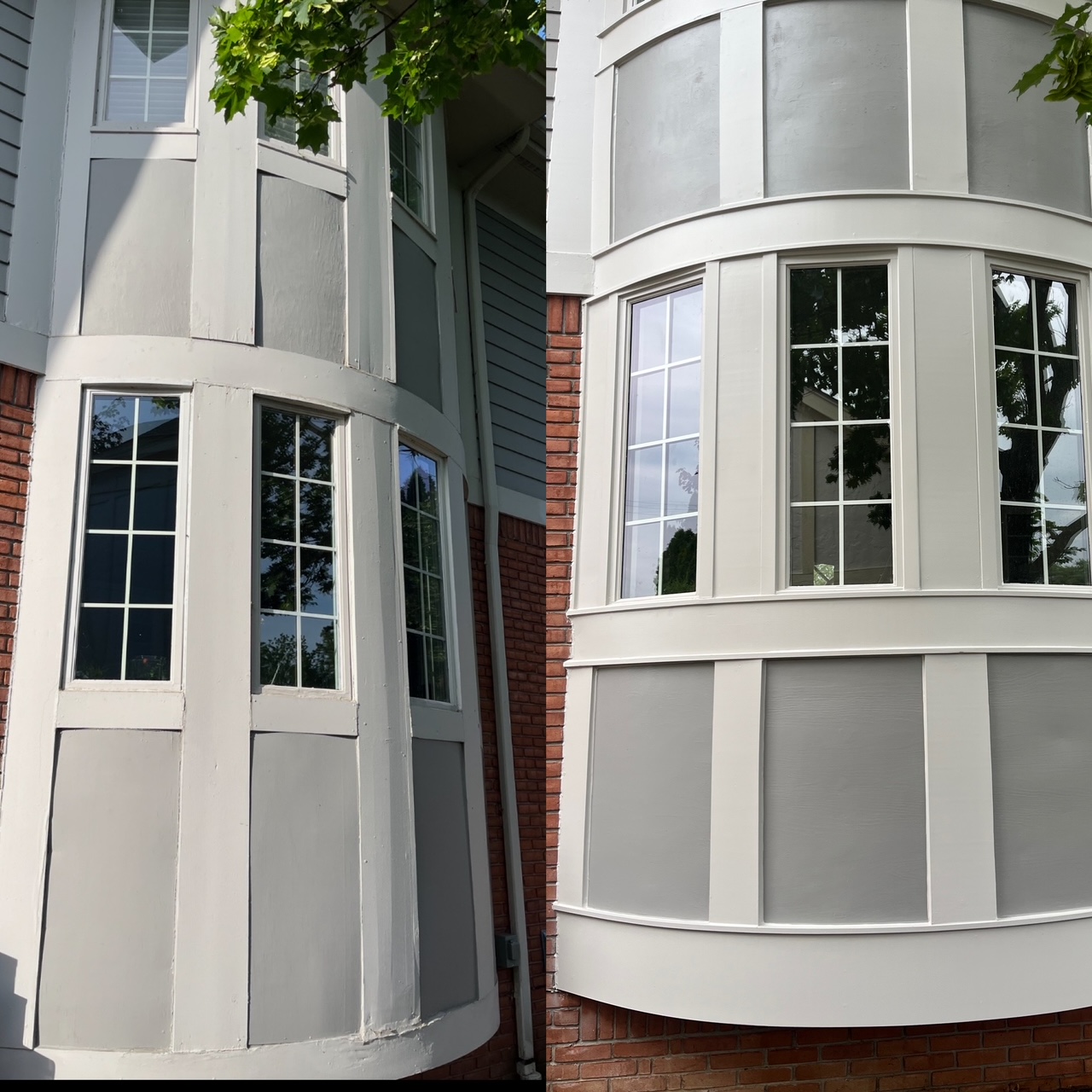 Enhance Your Home with Energy-Efficient Bow Windows from Athens Window Replacement
At Athens Window Replacement, we specialize in Bow Window replacements that not only elevate the aesthetics of your home but also offer remarkable energy efficiency. Our selection of Bow Windows is designed to provide both visual appeal and exceptional thermal performance.
Our Low-E glass Bow Windows are a cornerstone in energy-efficient home design. This innovative glass reflects heat while allowing light to pass through, significantly reducing energy costs and enhancing indoor comfort.
Opt for our Argon Gas Filled Bow Windows to experience enhanced insulation. Argon gas, known for its superior insulating properties, is used between the panes, reducing heat transfer and lowering energy bills.
Triple Pane Bow Windows from Athens Window Replacement offer maximum energy efficiency. With three layers of glass, these windows provide outstanding insulation, reducing outside noise and significantly cutting down on energy usage.
Our Double Pane Bow Windows strike an ideal balance between affordability and energy efficiency. These windows help maintain a consistent indoor temperature, thereby reducing your heating and cooling costs.
Choose our Energy Star Rated Bow Windows for a greener solution. These windows meet strict energy efficiency guidelines set by the EPA, ensuring reduced environmental impact and lower energy bills.
Protect your interiors while saving energy with our UV Protective Bow Windows. This feature blocks harmful UV rays, preventing the fading of interior furnishings and contributing to energy savings.
Our Bow Windows are designed with thermal insulation in mind. They effectively retain heat during the winter and cool air in the summer, providing comfort and reducing energy costs year-round.
Enhance your home's energy efficiency with our Reflective Coating Bow Windows. This feature reflects solar heat away from your home, aiding in maintaining comfortable indoor temperatures while reducing cooling costs.
At Athens Window Replacement, our focus on providing energy-efficient Bow Windows reflects our commitment to both aesthetic beauty and environmental responsibility. By choosing our advanced windows, you're not only enhancing the look of your home but also investing in a more sustainable, energy-efficient future. Embrace change with Athens Window Replacement – where every window opens a door to a greener world.
Frequently Asked Questions About Our Bow Window Replacement in Athens, Alabama
When it comes to Bow Window Replacement, homeowners often have several questions. Here are detailed answers to some of the most common inquiries.